West Baden Paint Out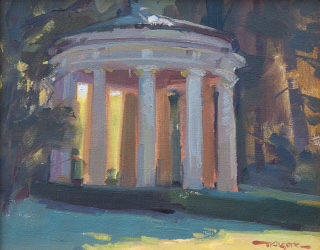 The light behind the columns broke thru the trees and filtered past the structure. It was clear to me that this was about warms and cools, but to get that right balance with oil paint, sometimes it is better to paint thinly and take advantage of certain colors' transparency.
Once I had established the tone I wanted, I painted in a range of "less warm" colors until I finished with the cool accents.
I painted Apollo Spring during the annual West Baden Paint Out sponsored by Indiana Heritage Arts.
The Apollo Spring structure marks the location of one of four natural mineral springs that drew people to the West Baden Springs Hotel for their perceived health benefits. The structure stands at one corner of the sunken garden adjacent to the historic hotel.