Plein Air Painting Value/Color Isolator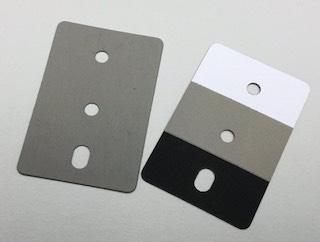 This is a Value/Color Isolator I make for my workshop participants.
I am always trying to make these more universal, and this is my 3rd version.
It's made from a countertop chip.
One side is a flat grey, while the other side has three tones to check for proper contrasts in your painting.
The grey is a slightly warmer tone so that you can check your temperatures at near neutral.
All paint is flat with a non-glare finish.